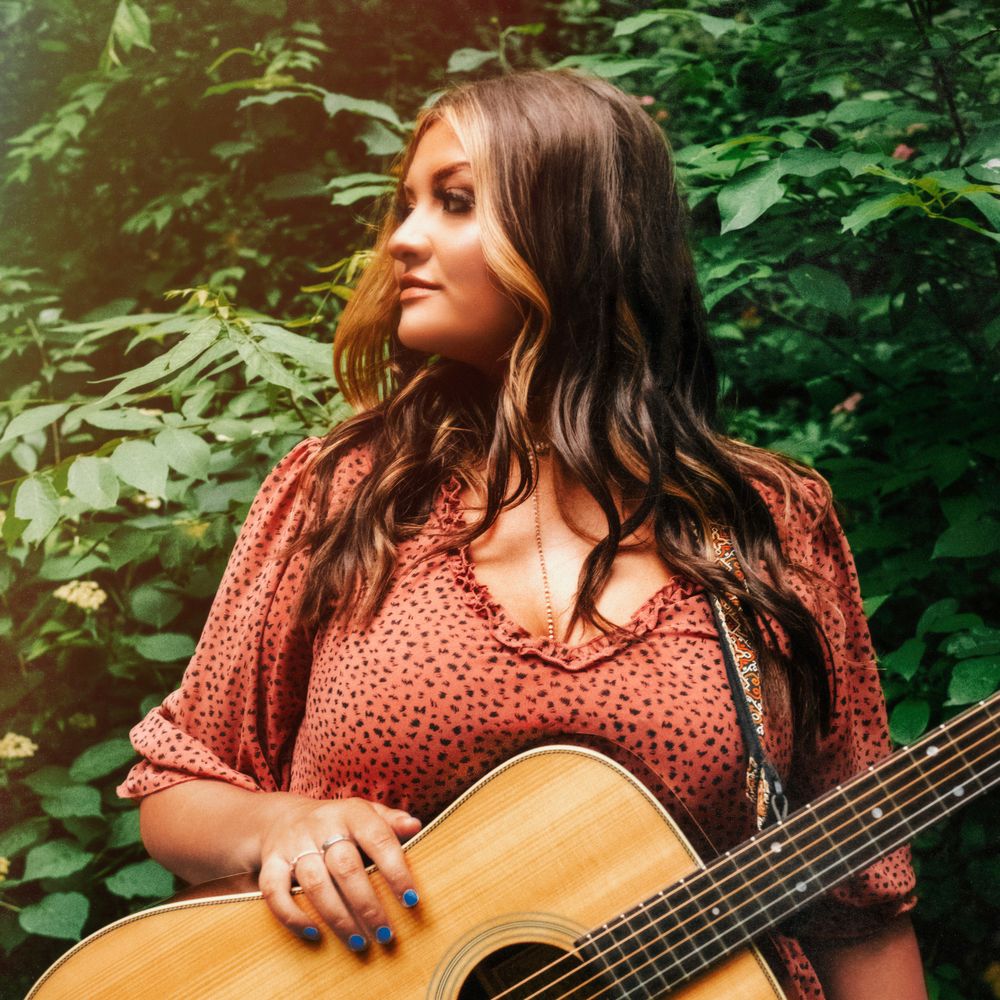 Biography
Music City native Jaelee Roberts is already more than a little familiar with—and to—the music industry. Born to veteran music professionals, Roberts grew up backstage at the Grand Ole Opry, in the middle of rehearsals, business meetings, recording sessions, and countless festivals and concerts.  These experiences, paired with her love of the music, have deeply rooted Roberts in the bluegrass music community.
Today, Roberts is a singer, songwriter, and multi-instrumentalist who has graced the Grand Ole Opry stage herself.  On September 29, 2021, Roberts received the IBMA Momentum Vocalist of the Year award at World of Bluegrass. Her debut music video for the second Mountain Home Records single, "Think Again", premiered on The Bluegrass Situation on August 31, 2021. "Think Again," written by Music Row veterans Marla Cannon-Goodman and Shane Stockton, is a well-written excursion to the country side of bluegrass that suggests once again that Roberts has a rare degree of interpretive conviction and depth for a singer just emerging from her teens.
Roberts got her start singing in church at a very early age. She began taking fiddle lessons at four years old and has since added guitar, mandolin, and piano to her musical arsenal.  From age 6 to 12, Roberts participated in and won numerous music and dance competitions but decided to take a step back from competing after discovering that her true passion was for performing. In pursuit of her passion, Roberts continues to be blessed with opportunities to join the stage with a long list of her musical heroes. 
By the time Roberts was 12 years old, she had been in the studio as a featured and harmony vocalist on seven songs—four songs on the 2013 Daughters of Bluegrass collection Pickin' Like A Girl, songs by Tom T. & Miss Dixie Hall released by Blue Circle Records, and three songs on Danny Roberts' 2014 solo project, Nighthawk, from Mountain Home Music Company. 
"I see myself as being a friend and 'cheerleader' to others," Roberts told MusicRow Magazine. "I have been around bluegrass music all of my life and have grown up with so many people around my age that it seriously feels like we're a huge family. I learn from my peers, and I feel like we all learn from each other. It is really quite cool to see how many of the younger generation are sticking with the bluegrass and classic country roots alongside those who are going for more 'out of the box' sounds. I love being part of this music, and I'm so blessed to be surrounded by so many friends who are so talented and share the love of music just like I do!" 
Roberts was selected from applicants across the United States as a vocal track participant at GRAMMY Camp in Nashville, TN in 2017 and Los Angeles, CA in 2018. This gave her the opportunity to spend two weeks fully immersed in music with her peers, collaborating with songwriters, musicians and recording engineers, and getting instruction from industry powerhouses.  
In 2019, Roberts released two singles on Euphony Records, both of which received national and international airplay. The first release, "All My Tears" garnered attention from Patty Loveless, who said, "Jaelee Roberts…WOW…this girl can sing!  She brings a vocal performance to this track that touches the core of what fires me up about music." Roberts' second single, the self-penned "One's Real Life," was inspired by a dream, and when she woke up, she vividly remembered the song's hook that would go on to become its title. 
Later in 2019, Roberts was a featured performer at the prestigious Musicians Against Childhood Cancer (MACC) Festival in Ohio and served as the Official Showcase Artist at the IBMA World of Bluegrass in Raleigh, NC.  
While 2020 proved to be a challenging year for the music industry, Roberts made the best use of her time by making great strides to expand her musical horizons by honing her songwriting skills. Roberts was selected to perform one of her original compositions at the IBMA Songwriters Showcase during the 2020 Virtual IBMA World of Bluegrass. 
"My greatest desire is that other people will truly be able to relate to my songwriting. My goal is to tell stories through my writing that will touch and resonate with people no matter who they are," said Roberts. "I also hope that the songs I write will inspire people in the same way that my favorite writers inspire me. I love all genres of music but my heart belongs to bluegrass/acoustic and traditional country music so I want to be able to write music that the fans of those music styles will enjoy."
"In addition to writing songs for myself as an artist, I want to write songs that other artists will want to record," Roberts added. "I think that will be the most amazing feeling to have someone else perform/record something that I've written!"
In August 2020, Roberts signed with Mountain Home Music Company. Her debut single, which Roberts co-wrote alongside singer/songwriter Theo MacMillan, "Something You Didn't Count On" was released on February 5, 2021 and was received by radio and fans alike with great enthusiasm. Her second single with Mountain Home, "Still Waters," was released on March 24, 2021. "Still Waters," written by Kelsi Harrigill, is a bluegrass Gospel waltz based on Psalm 23. Since its release, "Still Waters" has been ranked a top ten song on radio and Gospel charts.
In addition to joining Mountain Home Records, Roberts rounded out the year with an invitation to appear at the Grand Ole Opry to audition live for Sister Sadie, IBMA's 2020 Entertainers of the Year and 3-time Vocal Group of the Year. This event was televised on Circle TV to celebrate the 75th anniversary of bluegrass music. It was announced on February 23, 2021, that Roberts would join Sister Sadie as a guitarist and vocalist. 

As the momentum builds for Roberts' career, she continues to sharpen her knowledge and talent as she pursues her commercial songwriting degree in the College of Media and Entertainment at Middle Tennessee State University (MTSU) in Murfreesboro, TN. 
"Jaelee [Roberts] is a name you should remember…I've got a feeling we'll be hearing it a lot in the future. She has music running through her veins and a voice as pure as a mountain spring," said award-winning singer/songwriter Shawn Camp. "I know you'll love Jaelee and her music for years to come. She's the real deal!" Roberts' musical prowess and artistic versatility are commendable, especially for an artist her age - she has even been referred to as bluegrass' next "it" girl. "Jaelee Roberts is a perfect example of amazing talent, formed from a musical family foundation, nurtured into a beautiful rising star," said Grand Ole Opry member Rhonda Vincent. "I love it when the next generation continues a family tradition!"